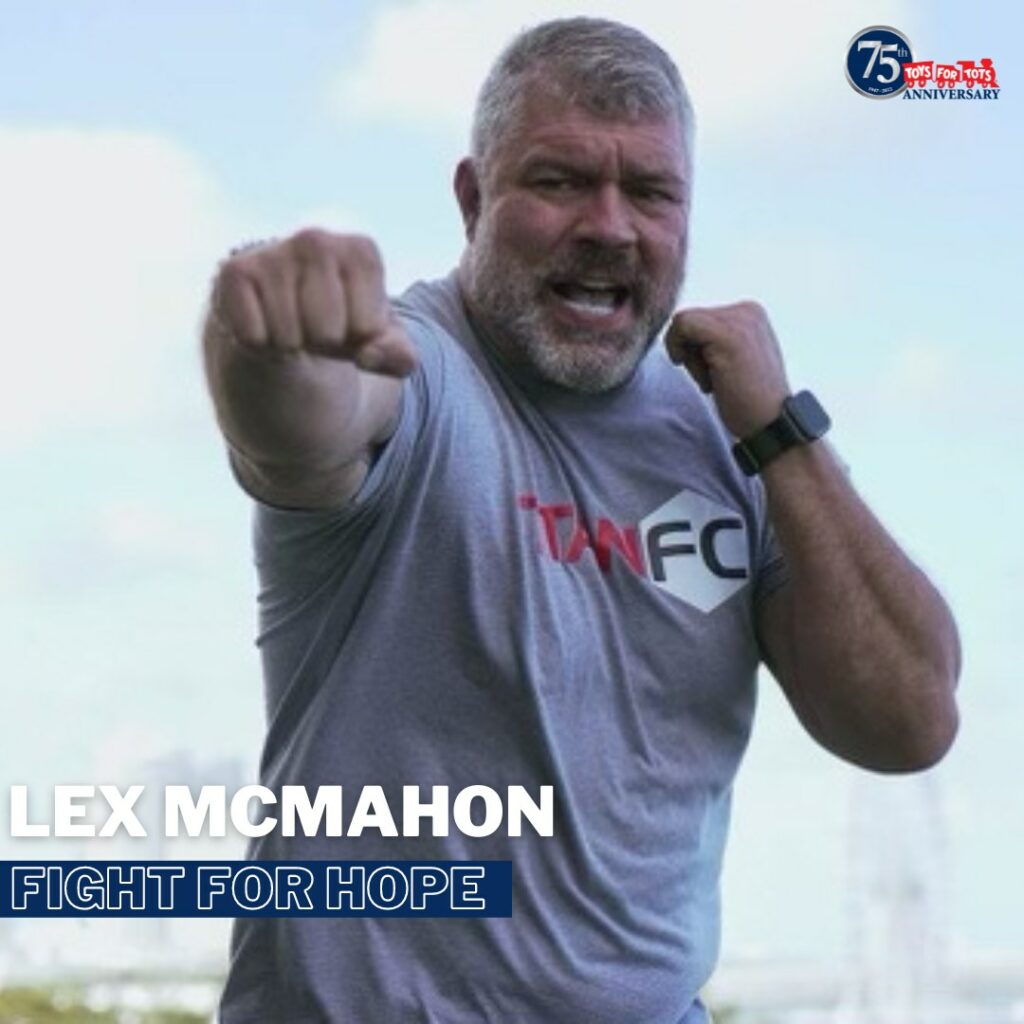 Parkland, Florida and Quantico, VA—Titan FC Co-Founder/COO and Veteran advocate Lex McMahon announced his return to the Octagon in a fight vs. Luis Garcia on December 9, 2022, in the Dominican Republic and unveiled a new partnership with Marine Toys for Tots. The fight follows Lex's successful Professional MMA debut on UFC Fight Pass at forty-nine years old, where he defeated Justin Thornton in 58 seconds on November 21, 2020. McMahon's victory earned UFC Fight Pass Story of the Year honors in 2020. It also garnered global media attention while securing significant awareness and support to prevent the epidemic of Veteran suicide in the United States—a cause close to McMahon's heart who served in combat as a U.S. Marine.
"Given the fact that I am now fifty-one years old and knowing what a toll the first fight took on my body, I did not make the decision to take another professional fight lightly—but I did so because my efforts to this point generated so much hope for so many people," said McMahon. "I realized that my platform and my story can be a beacon of hope for many more—that's why I have decided to fight again and expand my mission of supporting AHERO and preventing Veteran suicide, and also support the incredible work that Marine Toys for Tots is doing across our great Nation for struggling children."
LtGen Jim Laster, President & CEO of the Marine Toys for Tots Foundation stated, "We are beyond proud to partner with Lex as he fights to raise awarness for those who desperately need hope — and a reason to believe in a brighter future. Lex is literally going to the mat in his mission to help prevent Veteran suicide – and provide hope and joy to children in need."
Approximately 22 U.S. Veterans a day take their own lives, totaling 8083 a year. In the runup and aftermath of his history-making fight, Lex raised significant awareness of and financial support for the prevention of Veteran suicide in the United States through his ongoing relationship with AHERO. This effort will continue and be joined by a complementary effort to support the mission of Marine Toys for Tots.
"AHERO is incredibly grateful to Lex McMahon for his long-standing commitment to our nation's veterans and first responders," said Major Lee Stuckey (USMC retired) Founder and President of AHERO. "Lex continues to lead by example both inside and outside of the Octagon. A lot of people say they support their military with words, but Lex continues to actually do it through action to help save lives."
"Thanks to his efforts we are able to provide hope to so many of our wounded heroes through outdoor recreational therapy, music therapy, and a new sense of purpose with meaningful employment opportunities. I am blessed to have Lex as an AHERO Board of Director, but more importantly a friend. God bless, Semper Fi, and bring home the win!," added Stuckey.
As part of his collaboration with Marine Toys for Tots, Lex will use his platform to promote the Toys for Tots mission and engage in public events in the coming year. McMahon will also work to bring together America's Mixed Martial Arts community with Marine Toys for Tots to engage in a number of community-based efforts to reach disadvantaged children. The details of this new program will be announced in the coming weeks.
"As a Marine, and a father, I am fortunate to know my calling and to know that I can make a difference for others by providing them with hope," added McMahon. "I am very energized about this new joint effort with my fellow Marine, LtGen Jim Laster, and his incredible Toys for Tots team—I am confident that in the coming weeks and months we will achieve our mission and bring hope to those who need it most."