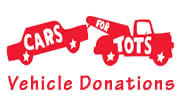 A Free, Easy, Quick, Secure way to help Toys for Tots in a big way. We take any vehicle, anywhere in America, running or not. This is an alternative to the hassle of selling or trading-in yourself, and you get a tax deduction and a big thanks from us.
If you are ready to donate, you can proceed directly to the Start your Donation Now or call 855-700-7275.
If you would like a more thorough discussion of the donation process before you donate or access to our complete program explanations, visit our Vehicle Donation Program website.