About Toys for Tots
Since 1947, U.S. Marine Corps Reserve units have conducted Toys for Tots campaigns in communities nationwide to bring the joy of Christmas and deliver a message of hope to America's less fortunate children.
The toys, books and other gifts collected and distributed by Marines and volunteers offer these children recognition, confidence and a positive memory for a lifetime. We believe it is such experiences that help disadvantaged children become responsible citizens and caring members of their community.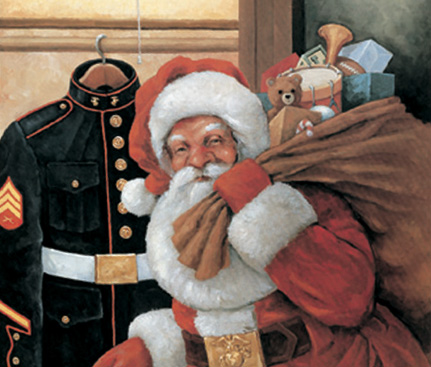 The Marine Toys for Tots Foundation, an IRS recognized 501(c)(3) not-for-profit public charity, was created at the behest of the Marine Corps in 1991 to provide fundraising and other necessary support for the annual Marine Corps Reserve Toys for Tots Program.
Talking Points
Marine Toys for Tots Program was created by the Marine Corps in 1947.
Mission: Through the gift of a new toy help bring the joy of Christmas and send a message of hope to less fortunate children.
In 1948 Walt Disney designed the first Toys for Tots poster which included the three-car train that now serves as our logo.
For over 70 years, Marines and our tens of thousands of volunteers have distributed 566 million toys to 258 million less fortunate children.
In 2018 Local Toys for Tots Campaigns were conducted in 805 towns and cities across the country, covering all 50 States, Puerto Rico, Virgin Islands, and Washington DC.
In 2018, our Marines and volunteers distributed 19 million toys to 7 million less fortunate children.The Census Bureau reports that nearly 15 million children in our country live in poverty.
For over three decades one of our areas of focus has been the Native Americans living on reservations in the southwest. Over the years, millions of toys have been distributed to hundreds of thousands of Native American children.
In 2018, Toys for Tots distributed over 1.3 million books through our Toys for Tots Literacy Program
People often ask how they can help. If you are in business, we are always looking for donated warehouse space to store and sort toys and donated vehicle support to assist in the collection and distribution of toys. For individuals, just purchase a toy (or better yet, several toys) and drop them in one of our Toys for Tots barrels. If it's not convenient to shop for toys, one can make a monetary donation on our website: www.toysfortots.org. One can also volunteer to work in one of our warehouses sorting toys or assist with the collection and distribution of toys.
Key supporters and volunteers in 2018 included our First Lady, Melania Trump, television star, Ellen DeGeneres, and Chief Justice John Roberts.
Marine Toys for Tots meets all twenty standards established by the Better Business Bureau Wise Giving Alliance and is thus designated an Accredited Charity.
It's important for our donors to know that the Marine Toys for Tots Program has a very enviable program to support ratio of 97:3, which means 97% of donations are spent on the program with only 3% spent on overhead. In this regard, Marine Toys for Tots is the envy of the nonprofit world.It would also be worth noting that not one donated dollar goes to pay anyone's salary.